Everyone loves to spend time outdoors when the weather is good. We enjoy lazy days sunbathing, relaxing, and entertaining friends and family.  But when the weather starts to turn a little chillier, we head back indoors.  
Enjoying the outdoors is good for our body and our soul, so why not look for a way to enjoy outdoor living all year round and install an outdoor fire pit in your back yard? 
Imagine being able to step out into your back yard with a background of beautiful flames that keep you warm while you take a moment for yourself or spend time with your loved ones. 
What is a paver fire pit? 
Firepits have been used for hundreds of years. From crudely dug holes in the ground to ornate freestanding designs, they have undergone a lot of transformation.  A paver fire pit is created using interlocking paver bricks to beautiful, bespoke creations to suit your exact needs.  
Installing a paver fire pit is a cost-effective way to build and can be incorporated seamlessly into your existing patio. These types of stones have been used in some form since Roman times, and are still going strong today. They are attractive, durable, and easy to maintain.  The joints allow the pavers to expand and shift naturally. 
Are Outdoor Fire Pits safe?
Obviously, anything to do with fire must be treated with care to prevent accidents and hazards. A well designed and installed firepit will build safety into every feature from operating mechanisms to the paths and walkways surrounding it to keep the fire safely contained. 
Can I build my own outdoor fireplace?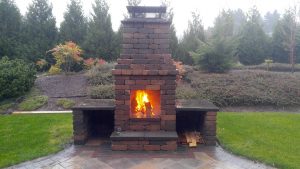 With the right materials, an experienced DIY enthusiast could build their own fireplace.  If you have some kiln-fired landscaping bricks and a flat, heatproof surface, you could build your own.  However, there are a lot of factors that go into building a sturdy, safe fire pit so it is best left to the professionals. 
What will my firepit look like? 
Firepit design is extremely versatile and can be built to suit the design of your existing garden or property. They can be built in a variety of sizes, shapes, and styles to complement your home. They can be round, rectangular, or built up like an outdoor kitchen oven to give you the flexibility to cook on them too. 
Why Sequoia Stonescapes? 
Sequoia Stonescapes has installed outdoor fireplaces, paver fire pits, walkways, and driveways for hundreds of customers, transforming their outdoor living areas into space they can be truly proud of. We strive to provide the very best in customer service, focusing on communication, integrity, dependability, and success.  Our team can give you the outdoor living area you love both on time and within budget. 
If you'd like to discuss your home landscaping options, give our team a call at (503)-932-7605 and they would be happy to give you a no-obligation quotation, free of charge. 
Enjoy home outdoor living all year round with a Stone paver fire pit installed by Sequoia Stonescapes.